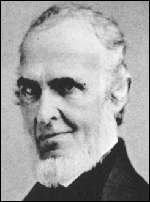 John Greenleaf
Whittier
John Greenleaf Whittier, the most outspoken abolitionist among the poets of his generation, was born into a Quaker farming family in Haverhill, Massachusetts, in 1807. Although his early life was one of relative hardship and isolation, his constant exposure to the wonders of nature gave him a poet's appreciation for the beauties of the world around him.
His first poem, The Exile's Departure, was published by William Lloyd Garrison in the Newburyport Free Press in June of 1826. Thus began a lifelong friendship with the fiery abolitionist leader. After acquiring the equivalent of a high school education (Garrison had persuaded the elder Whittier to allow it), Whittier supported himself for a time as a teacher and a shoemaker. Eventually, his involvement with Garrison pulled him into the world of politics. He became the editor of the American Manufacturer in Boston and then of the Haverhill Gazette and the New England Review and a co-founder (in 1839) of the Liberty party, a "political-action group of the Abolitionist party."
From his ready-made platform, Whittier joined Garrison and others in assailing the evils of slavery. His first collection of poems dealing with abolition was published in 1837. The rigors of his boyhood had left him in poor health and eventually forced his retirement from the high-pressure world of newspaper editing, but he continued to write tirelessly against the South's "peculiar institution" and in favor of emancipation.
Whittier died in Hampton Falls, New Hampshire, in 1892, having lived to see the successful conclusion of the abolitionist movement he had championed throughout his life.
"Barbara Frietchie" || "Laus Deo" || "The Battle Autumn of 1862" || "A Word for the Hour" ||"Luther's Hymn"
---
This page is http://civilwarpoetry.org/authors/whittier.html
Last modified 16-April-2001