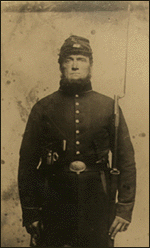 Sergeant Elisha Dixon ~
47th Illinois Volunteer Infantry, Company K
Elisha Dixon, a sergeant in Company K of the 47th Ilinois Volunteer Infantry, wrote this poem for the sisters of Private Hiram Boardman, a resident of Starke County, Illinois, who served under Dixon and was mortally wounded in the Battle of Iuka. The task of informing the family that a loved one had perished in battle usually fell to a company officer; Dixon obviously sought to ease the Boardman sisters' pain by setting down for them in verse the details of their brother's heroic death.
This poem has been handed down through the Dixon family, complete with misspellings, and comes to us courtesy of Sergeant Dixon's great-great grandaughter Patricia McWhortor Mullenix of The Ladies' Parlor. We thank her for her generosity in allowing us to include it in our collection.